GLYPHOSATE
TECHNICAL : 95%TC
FORMULATION : IPA 41%SL,62%SL,75.7%WDG
CAS NO. : 1071-83-6
MOLECULAR FORMULA :C3H6NO5P
MOLECULAR STRUCTURE: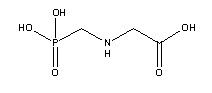 SPECIFICATION
Item

Standard

41% SL (480g/l)

62% SL

Appearance

Stable homogeneous liquid, free from any suspended matter and sediment.

Stablehomogeneousliquid, free fromany suspendedmatter andsediment

Content of Glyphosate IPA

41%

62%

Glyphosate Acid

29~32%

43.7~50.6%

Insoluble matter in water

≤0.2%

≤0.1%

Formaldehyde, (g/kg)

≤1.0

≤1.0

PH value

4.0~8.5

4.5~6.0

Dilution stability (20times)

Qualified

Qualified

Low-Temperature Stability

Qualified

Qualified

Thermal Storage Stability

Qualified

Qualified
APPLICATION
Glyphosate IPA salt is widely used in the fields of forest, agriculture, herd, industry and transportation. It is effectively used against annual or biennial herbaceous monocotylendon and perennial malignant weeds, such as imperater cylin-drica beuuo cyperus linn etc.
EFFECTIVE DESAGE
1.41% SL:200-400ml/667m2
2.62% SL:300-600ml/667m2
41% SL: 1L,5L,10L,20L,200L/plastic pailPACKAGE
62% SL: 250kg/drum